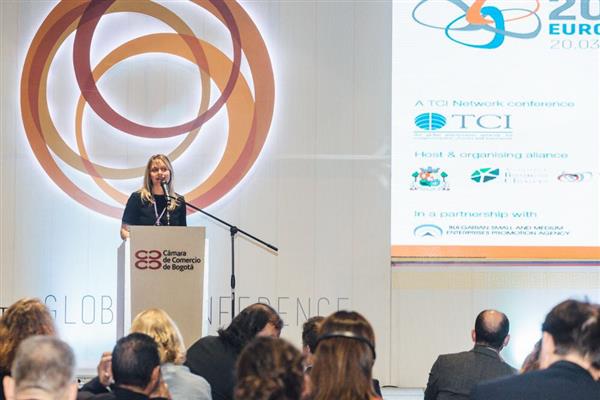 Earlier this month, the 20th Global TCI Conference gathered more than 350 delegates, representing 43 countries and 6 continents.
Being an organisational TCI Network member, Consulting Cluster Veritas took part in this emblematic conference edition, with main theme "The future of clusters through cross-country and cross-region collaboration" and organised by the Bogota Chamber of Commerce and TCI Network.
The experience gained and the knowledge shared during the 20th TCI Network Global Conference will be certainly remembered and discussed over and over again. The event turned to be much more than a conference - it was a platform for networking and creating new opportunities, where delegates experienced keynote presentations from Ricardo Hausmann, Ernesto Stein, Mary Walshock, Christian Ketels, Ifor Ffowcs-Williams and many more. The organising team done a great job and trilled with its professionalism and hospitality.
The 20th TCI Global conference allowed interactions between cluster and competitiveness professionals, looking to exchange experience and build synergy, to lead to better:
· Productive development policies
· Experiences in the implementation of these agendas
· Business and joint activities between clusters from different region and countries
Every delegate took a copy of the 20 years of TCI Network book, especially produced for the anniversary and presented with honour during the event.
Passing the torch ceremony
The 21st TCI Global Conference will be held in Toronto, 16 -18 October 2018
UNECPECTED CONNECTIONS - Collaborating to compete clusters in action
www.tci2018.com
But before heading to Toronto, there is one more conference not to be missed!
The TCI European Conference 2018 will be taking place in Sofia, Bulgaria between 20-22 March 2018 with a main theme "Turning Challenges into opportunities".
TCI has chosen Sofia, Bulgaria as the location and host for its European Conference in 2018. As a regional conference of TCI, it will support the reinforcement of TCI in Europe by promoting closer ties among cluster practitioners in the region as well as by facilitating an open exchange of experiences, results and methodologies.
The TCI President, Christian Ketels, invited Teodora JIlkova, from Consulting Cluster Veritas and on behalf of the organising team to announce the programme highlights on the stage.
The brief presentation included information about the host and organising team (Sofia Municipality, Association of Business Clusters and Consulting Cluster Veritas), key economy facts about Bulgaria, provisional schedule of the conference days, as well as cluster tours scheduled and sub-theme highlights, together with conference & meetings formats.
"The purpose of this conference is to encourage the exchange of knowledge and information among cluster practitioners and regions in the scope of international co-operation", said Jilkova. " We want all delegates to see the TCI European Conference 2018 as a platform for creative minds, a journey between the clusters of all continents, a hand-shake between "knowledge and experience".
"The TCI conference in Sofia will provide platform to engage with the full set of issues relevant for more effective cluster-based efforts, whether you are policy maker, a manager of a cluster program, or a cluster initiative manager. You will find new learning, and maybe even more importantly, new contacts to help tackle the yet unknown challenges of the future together", said Chrisitan Ketels, TCI president.
We are looking forward to seeing you in Bulgaria!